Ferdinand Beyer's Opus 101 has been the most widely used method of learning to play the piano for almost two hundred years. The book is the most used in absolute, it is in fact an easy method suitable for everyone. Beyer op.101 will allow you to take your first steps in studying the piano in a gradual and progressive way, so it is ideal for adults.
The ideal solution if you can't attend a teacher in person
You will learn to play and read music step-by-step
You'll be surprised at the clarity and simplicity of the lessons
An easy way to learn to play the piano
About me
Hi, my name is Leo Ravera and I am a lucky person. My greatest passion, music, has become my profession and my life. Playing and teaching are two different ways to share the love for music and the joy of playing the piano.
Maybe you want to start playing the piano, maybe it's an idea you've always had but you think it's too complicated or impossible. I assure you it's not like that at all, I have many students and friends who have decided to start playing piano as adults and have found that playing is and fun and within everyone's reach.
If you need a helping hand to get over the first few difficulties, count on my help. Write me if you want to ask me questions about my piano method, which I created exactly for beginning piano players. Maybe it's the right course for you, too.
Why I chose F.Beyer's Op.101 for my piano video course
In my years of experience as a piano teacher, I have tried many different methods. I could verify that no method is as fast and effective as Beyer Op.101, absolutely the best method to begin playing the piano.
When you begin to play the piano, the first steps can be frustrating: you don't know how to coordinate both hands, the score seems like an incomprehensible language, and our fingers move awkwardly and with difficulty.
With Beyer's op.101 video course you will overcome these first difficulties very quickly. The exercises are easy and gradual and in a few weeks you will leave behind the first lessons. The exercises will soon become more and more interesting and fun.
The main qualities of Beyer Piano course
Introduces new topics one at a time

The difficulty of the exercises increases gradually and progressively

Allows you to learn to read music and learn to play the piano at the same time

Addresses various aspects of basic piano technique

It is an ideal method to study piano by yourself
How the Beyer course op.101 is organised
The video course on Beyer's Op. 101 consists of over 100 video lessons for about 8 hours of video tutorials, and covers all the exercises in the book.
In the video lesson, each exercise is explained by looking at the score and pointing out the difficulties you will encounter.
After the explanation, I will show you on the piano the most difficult parts of the exercise, with useful tips on how to tackle them.
The top-down view of the keyboard allows you to see exactly what I play, so you won't miss a single step. Learning will be intuitive and fun.
At the end, the exercise is performed in full.
Buy Beyer op. 101 Piano course
Buy Beyer full course
€ 149.90
This is what people who have tried my piano method say
Doesn't promise miracles, I appreciated the sincerity
Before starting the lessons, I had never even put my hands on a keyboard. Of the video courses that I have had the opportunity to evaluate on the web, this is the only one that does not promise miracles or results in a few weeks. I am convinced that learning the difficult art of piano takes time and perseverance, I appreciated the sincerity. I have made more progress than I expected, even though I have just started. The lessons are clear and of progressive difficulty, so at the end of each lesson you can appreciate the progress made. I would recommend them because the results are constant and tangible, lesson after lesson.
Clear and concise explanations
Before I got to know your work, I lost two years following self-taught courses bought from music shops that deceive you with a few exercises to be able to play your favourite songs immediately. On You Tube many who pose as teachers, are just narcissists. I chose your lessons because they are very well done, the explanations clear and concise.
The best on the internet and YouTube
I bought the Beyer manual, and then I bought the first cycle of lessons. I have to say that the exposition method (sheet music on top, hand vision, commentary and highlighting of the notes played) is really perfect. The best among all the ones I've seen on the internet and YouTube. Well done! I'm almost 70 years old and I have no excuse for not learning anymore except my laziness... I hope well, but you have done a great job anyway.
It allows me to practice in my free time
It's my own goal, I don't want to prove anything to anyone and I have no ambition to play concerts. I have the opportunity to evaluate myself by playing together with the video, even if I don't always manage to reach the correct speed. I'm only at the beginning of the process, and I repeat every exercise so many times...
I thank you because this system of video lessons is very efficient, it allows me to practise in my free time, without fixed schedules, although I have found that it is better to practise daily.
It relaxes me to do the video lessons
I had never studied the piano before, before purchasing the course t I tried to follow some courses on the internet, but after a few lessons I got lost and tired immediately because they were unclear to me, then I tried your free lessons and I was convinced.
They are very well done, the teacher explains very well, clearly and calmly, and I find the tone of his voice very reassuring. It relaxes me to do the video lessons.
From the very first lessons I understood several things that I hadn't understood before, even by reading beginners books. I recommend it because it is well done, well structured, explains in a clear and understandable way and easy to follow, even the website is very well done.
It's like having the teacher at my side
I had never studied piano, my knowledge of music stopped at school age. I appreciated the simplicity and clarity in the exposition of the course, the video presentation of the teacher that does not create false illusions. I am very slow but steady, I have just finished the exercises for the right hand, before moving on I want to consolidate the work done. I would definitely recommend this course because the teacher is always present and available, I can work at my own pace and write him if I have any doubts, I feel like I'm being followed like an in-person course.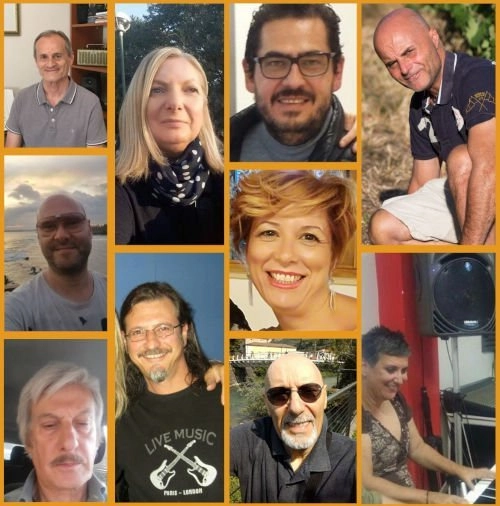 Read all the reviews and watch the videos from people who have tried my courses or my online piano lessons
No risk, money back guarantee
I am sure you will enjoy the video course, so I am offering you the opportunity to try it out for a week. If you don't like the lessons, you can ask for a full refund.